Star Wars: The Mandalorian Art "Mandalorian & Grogu" (Scale 1/10)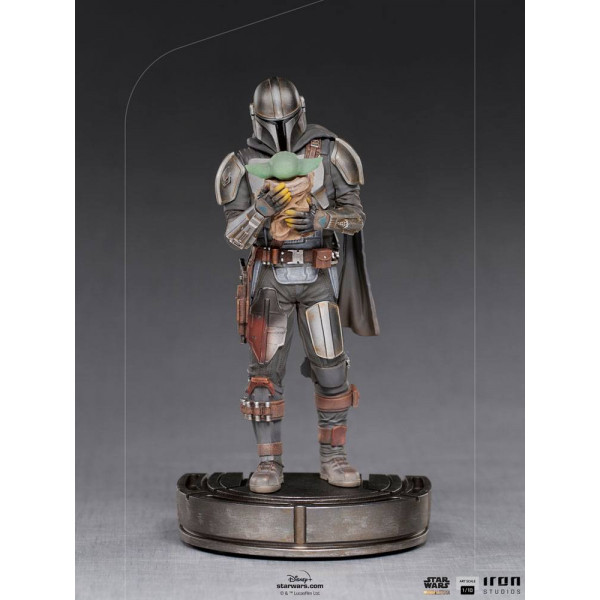 - Series: Star Wars
- Material: Resin
- Size: 22 cm

In a paternal way, Mando, who is a lonely Mandalorian bounty hunter, lovingly holds in his hands the little baby named Grogu, a mysterious child who has the physical characteristics of the legendary Jedi master Yoda, who also has a strong connection with the Force. Mando, who had been tasked with capturing the child, became fond of the small and apparently fragile Grogu, becoming his guardian and protector against the remaining forces of the ancient fallen Galactic Empire, the other bounty hunters who have the same task, to capture the child.

Replicating one of the most tender moments of The Mandalorian series, Iron Studios presents its statue "The Mandalorian and Grogu Art Scale 1/10 - The Mandalorian - Iron Studios", the first made on this scale and derived from the renowned series. Mando, who is on a base inspired by the floor of a spaceship, carries his adopted son, and the statue accurately replicates the details of his beskar armor, a metal resistant to lightsaber attacks.

The Mandalorian, a kind of space western, is a spin-off to the Star Wars franchise. The story takes place between the fall of the Empire, after episode VI, and the rise of the New Order, which was presented in episode VII .
Books
Manufacturer
Iron Studios
Material
Resin
Publish
2021
Size
22 cm