Disney Showcase: Maleficent Diorama Headdress "True Love's Kiss"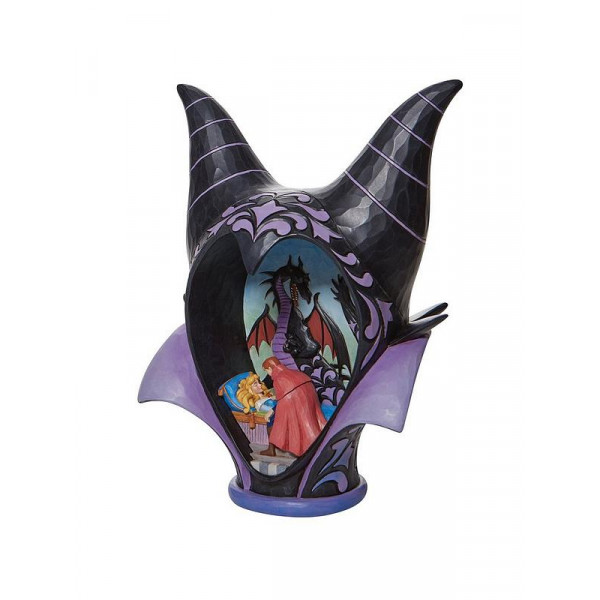 This Maleficent headress Diorama figurine is simply stunning. Framed within Maleficent's horned silhouette, an illustrious Sleeping Beauty scene unfolds: Prince Phillip arrives at Aurora's bedside with fairies, Flora, Fauna, and Merryweather, to break the curse before the kingdom falls in this Jim Shore creation. A 3D bar relief sculpt of Maleficent as a dragon in the background adds that extra detail making this figurine something very special for any collection.

Designed by folk artist Jim Shore. Hand painted and hand sculpted high quality cast stone. Packaged in a branded giftbox.

Disney movie: Sleeping Beauty
Size: 27 cm

Material: Resin
Designed by Jim Shore

This is not a toy. Collectors item.

Books
Creator
Jim Shore,
Manufacturer
Enesco,Disney
Material
Resin
Publish
2021
Size
27 cm
Views: 477
Brand: Enesco
Product Code:

ST-6008996 (12689)

Availability:

In Stock
Tags: Άγαλμα, Statue, Συλλεκτικό, Collectible, Φιγούρα, Figurine, Disney, Ντίσνευ, Enesco, Ενέσκο, Ρεζίν, Rezin, Resin, Jim Shore, Τζιμ Σορ, Sleeping Beauty, Ωραία Κοιμωμένη, Πρίγκιπας Φίλιππος, Prince Phillip, Πριγκίπισσα Ορόρα, Princess Aurora