D-Stage Diorama: The Dark Knight Trilogy - Batman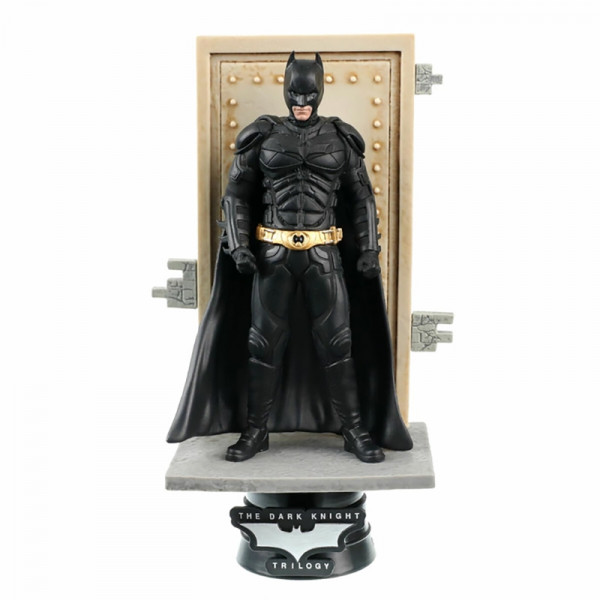 D-Stage "
Staging Your Dreams"
diorama.
Collect them all!!!


- Series: Batman

-
Size: 16 cm

- Material: Plastic

-
Hand painted with great detail


The Dark Knight has always been at the core the DC comics and movie universe, with vibrant characters that really gives Bruce Wayne and his alter ego Batman a run for his money. Two of the most exciting and well known outings in recent years has been arguably The Dark Knight Trilogy movies from Christopher Nolan, and the gothic Dark Nights series of comics. Two different mediums, yet two fantastic entries to the world of Batman!
Arguably one of the most celebrated scenes in superhero movie history, Christopher Nolen's second entry in his Dark Knight Trilogy sees Batman and the Joker facing off in an interrogation room.
A wonderfully layered and memorable scene, the power dynamics of the Christian Bale version of Batman, with the superb take on Joker by Heath Ledger is ingrained in cinematic history.
The combination of this D-Stage with the DS-092 (sold separately) creates the ultimate depiction of the movie scene.
Bringing these two iconic characters to life, with an emphasis on detailed costumes, both include a branded base and scenes directly from the film.
A fantastic pair of dioramas for Dark Knight movie lovers.
Bringing to life these two iconic characters, with a focus on detailed costumes, both include a branded base and backdrops straight out of the movie. A fantastic pair of dioramas for fans of the Dark Knight movie.
Books
Material
Plastic
Manufacturer
Beast Kingdom Toys
Publish
2021
Size
16 cm